1.1 Getting started with the program (5 min)
The Playbook to launching a career in the Franchise industry
What most people don't know is that becoming a successful franchise owner is a combination of effective research, work ethic, and timing. While franchise ownership is similar to founding a startup in a lot of ways, one of the key differentiators is the fact that owning a franchise means you're inheriting existing operational playbooks, business methods, and brand reputation.
You may be the most talented franchise operator in the world, but if you're
There are over 4,000 franchises in the United States which is A LOT. It's impossible to know the details of all franchises, so you have to cut the list down to manageable and relevant to what you're looking for.
While you'll naturally cut down that number by focusing on the specific industries and business types (i.e. B2B vs retail) that you're interested in, there will still be far too many options for you to research efficiently.
To expedite your search and prevent you from spending a ton of time researching franchises that you ultimately won't move forward with, you need to create a preliminary checklist that you'll use for every franchise that catches your eye.
The goal of the checklist is to get you to answer three core questions, so you can decide quickly if the franchise is worth exploring any further.
If the franchise doesn't meet at least two of the specific criteria, you can cross them off the list before wasting too much time. The three questions you need to answer are as follows: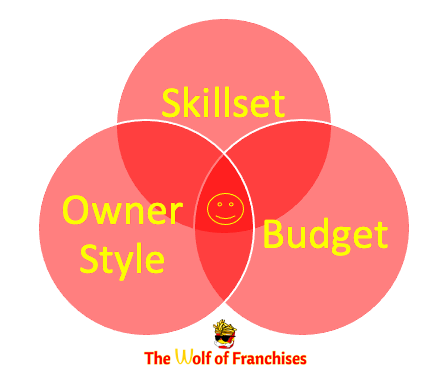 ---
How to maximize your experience in the Program
If you put in the effort and trust the process, you'll accomplish the following during the program:
Develop a better understanding of yourself — your strengths, skills, values, interests, and how they can apply to a career in franchise ownership
Clearly understand the process of buying a franchise
Identify several exciting potential franchises you'd like to explore as an investment
Create a plan and start exploring your top franchise choices
Build lasting relationships with other future franchise owners who will support you through your journey
Learn how to use the most effective franchise research tools to help you achieve your personal and financial goals in franchise ownership
---
Program Structure
The Fellowship is a peer-learning program that will take place over four weeks. There are three types of modules in this program:
Self-paced:

Review career design content and complete assignments on your own time

Team meetings:

Scheduled small group working sessions with your assigned team, once per week
In addition, you'll be able to tap into the broader program community through our Slack community.
You'll retain access to all of the program curriculum indefinitely, so you can always revisit the material and additional resources!
---
Program Overview
The Franchise Design Process is my proven framework for launching a career as a franchisee. I've structured the program to guide you through it one step at a time!
Week 1: The Reflection Phase. Identify your strengths, skills, interests, and values. You have to really know who you are before you can figure out how to run a franchise.
Week 2: The Definition Phase. Tangibly define what you want from your next career move, and start identifying several potential career paths that align.
Week 3: Introduction to the Testing Phase. Learn effective strategies for trying out your potential career path options before committing to one.
Week 4: More Testing and planning next steps. Outline your strategy for testing your most compelling options and get started.
While the program is technically over past Week 4, we've found that most folks like having additional structure to help them continue this journey. We've added the optional Week 6 and Week 8 to help you keep the momentum going and overcome any hurdles you may run into along the way!
Let's get started!
Complete and Continue